What is Bellafill®?
Bellafill® is a smooth, collagen-based dermal filler with polymethyl methacrylate (PMMA) microspheres. The collagen gel in Bellafill® provides immediate volume and lift to correct wrinkles and acne scars. Once injected, these microspheres stay in place and create a base that provides structural support for smoother-looking skin.
Bellafill Acne Scar

Bellafill ® is an injectable filler that's FDA approved to deal with specific types of acne scars. Bellafill ® produces instant smoothness that you can appreciate as soon as you leave the office– and it's been clinically proven to last through twelve months. Its two important components work with your skin for soft smoothness that looks and feels very natural:
Collagen gel (80%) forms the smooth base of Bellafill, adding immediate volume to depressed scars and raising them to a level that's even with the surrounding skin.
Polymethyl methacylate (PMMA) microspheres (20%) remain after the body absorbs the collagen gel, supporting the growth of your own natural collagen to supplant it.
Candidacy & Safety
Bellafill ® is approved for use on men and women who are 21 and older. It works on distensible and atrophic acne scars on the cheeks. Distensible scars smooth out whenever you tug on them; atrophic scars are pitted or depressed in the skin.
Bellafill ® is safe on all skin types, textures, and colors, however patients require an allergy test before treatment.
Both the collagen gel and PMMA in Bellafill ® have established safety records. PMMA has long been used in various other areas of medicine, such as orthopedic surgery, dentistry, and ophthalmology.
The Patient Experience
Bellafill ® for acne is an outpatient treatment. Treatment begins by cleansing your skin and preparing it for treatment. A series of thoroughly placed injections then add volume to smooth away acne scars. Your treatment is fairly brief, and there is no downtime, so you can return to your normal activities as soon as you leave the therapy session.
Even though significant side effects are unusual, you may experience localized sensations, such as itching, bruising, swelling, redness, discoloration, bumps, or increased sensitivity. These effects are typically temporary and will go away on their own.
Bellafill Cosmetic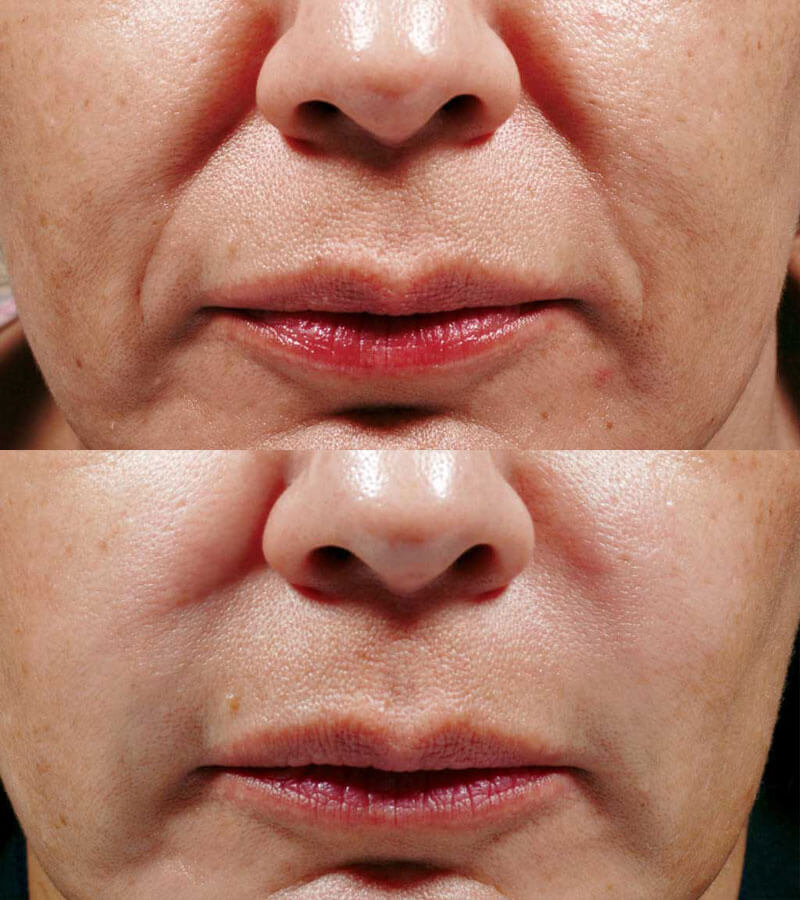 Bellafill ® is an injectable filler that's FDA approved to treat nasolabial folds. These types of folds, sometimes referred to as "smile lines," extend from the nostrils to the edges of the mouth. Bellafill ® provides instant smoothness, along with long-lasting results: In the longest and largest study ever conducted on dermal fillers, Bellafill ® was proven to be effective through five years. That suggests that you can enjoy your results for a lot longer than you would with hyaluronic acid-based fillers.
Bellafill ® has 2 main components:
Smooth collagen gel (80%) forms the foundation of Bellafill, creating smooth, supple volume beneath the surface of the nasolabial folds.
Polymethyl methacrylate (PMMA) microspheres (20%) are suspended within the collagen gel. These form a strong scaffold where your own natural collagen grows.
Thanks to its 2 innovative components, Bellafill ® creates instant results that you can enjoy as soon as you leave the office. As the original collagen gel fades away, your body naturally replaces it with your own collagen around the microspheres, for unparalleled long-term smoothness.
Candidacy & Safety
The best Bellafill ® candidates are women or men, 21 and older, who are bothered by the look of their nasolabial folds and want to avoid the regular touch-up treatments associated with other fillers.
Bellafill ® is FDA approved, and both its collagen gel and its PMMA microspheres have established records of safety. PMMA is an acrylic component that's commonly used in medicine.
Bellafill ® is safe for skin of all kinds and colors. However, an allergy test is required prior to treatment to ensure potential patients aren't sensitive to the product.